With green beaches, vast forests, unique "bridges", exciting entertainment areas … Da Nang is like a "paradise" – where you can meet all entertainment for anyone, even the most demanding guests. Totally different from Da Nang, Hoi An brings an ancient beauty for a long time. Normally, tourists can combine the trip from Da Nang to Hoi An for 5-6 days. For your experience when travel to Da Nang Hoi An, Seatrek will update here the list.
1. WALKING UNDERWATER TOUR –  MUST DO WHEN YOU TRAVEL TO DA NANG HOI AN
Fancy getting up close and personal with colourful sea creatures?  Vietnam looks set to become a leader in underwater walking tours after a second location opened this week at Cham Islands.
You cannot miss this tour when you travel to Da Nang Hoi An. Cham Island is a terrific place for travelers wanting to explore magical sights beneath the water. An underwater world of brilliant coral, colorful fish and sea creatures is waiting to be discovered. This is one of the most popular Cham Island one day tour for those who love challenge. The main purpose is to explore the oceans, hundred species of fish and colorful corals. The underwater tour is offered as part of a day trip. Participants have to wear a special helmet with an oxygen supply, and, after watching a guidance video, they follow the instructor to a depth of about 15 to 20 metres under the sea where they begin the fascinating walk along the ocean floor.
If you can walk and breath, you can SeaTrek.
During the tour, fish of all shape and colours, local marine life will surround you.
You will have a delicious lunch and relax at the Unique ecological Bai Chong beach of a Word Biosphere Reserved Cham islands recognized by UNESCO.
Experience the adventure on our VietNamese wooden boat.
Snorkeling, swimming, relaxing during the tour.
Tour for whom?
8-80 years old.
Non-swimmers and Non-Divers welcome.
Those who want to experience walking on the ocean floor in the unique environment.
Those who wish to hand feed the fish on the ocean floor
The tour begins at with pickup at your Hoi An hotel and a short ride to Cua Dai wharf where you will board a Vietnamese traditional boat. It takes about 1 hour. On the deck, you have time for relaxing, sightseeing. At Cham Island, you enjoy swimming, snorkeling and "Walking underwater".
You can click here for more details
2. CHAM ISLANDS SNORKELING DAY TOUR
Located 15 km east of Cua Dai Beach in Hoi An city, Cu Lao Cham features beautiful seascapes and landscapes and is made up of eight islets. It was recognised as a Unesco biosphere reserve in 2009 due to its strictly-preserved seabed eco-system, and it welcomes over 50,000 tourists every year. The Cham Islands are famous for blue sea, white sand, sunshine and stunning coral reefs. That's why Cham island snorkeling tour is the great tour to relax with sea. Tour is organized every day by Sea Trek Viet Nam.
The tour begins at Cua Dai wharf by Vietnamese traditional boat.  The Boat has 48 seats, It takes about 1 hours. On the deck, you have time for relaxing and sightseeing. At the location, the Guests can swim, snorkel. Then, you will have a lunch. After lunch, guests can swim or just relax in the hammocks. The tour finishes around 3 pm
You can click here for more details
3. BECOMING A FISHERMEN IN FISHING VILLAGE
There is plenty to see as the water around Cu Lao Cham is home to four species of tiger shrimp and 84 species of mollusk. The tour is advertised as being suitable for people who cannot swim or dive, and is designed to appeal to those who want to discover the ocean by fishing. You will be taken out to sea in the early morning and are shown how to throw nets, touch the fishing life by catching fish with the local fishermen's net,that will be an unforgettable experience on your trip to Vietnam. You can also breathe the fresh air of the sea, listen what is the sea saying, wait and observe the wonders. Besides, tourists also have the opportunity to have lunch with fresh seafood dishes with high quality. All of them will bring to you a great experience in your holiday
You can click here for more details
4. TRAVEL TO HOI AN HANDICRAFT VILLAGE TOUR
Hoi An Handicraft Village is established by the spirit and perspectives of the Quang Nam people in general and Hoi An in particular. Since years of the 15th – 16th century, there were a lot of the handicrafts careers to be appeared and developed very much in Hoi An, then passing thousands of years have been existed and preserved from this dynasty to that next dynasty, all handicraft produces in Hoi An were very polished which can improve and develop Hoi An in the past as well as until nowadays.
Hoi An handicraft workshop brings together many talented and skillful artisans in most traditional handicrafts of Hoi An and Quang Nam such as pottery, lacquer, cloth weaving,… Here, you will see how meticulous artisans create fine artworks and choose to buy souvenirs. Seatrek also has a Hoi An handicraft workshop tour for your choice.
Arrival to Hoi An Handicraft Village tour, tourist will have a chance to find and understand about the processing creating the beautiful produces via the skillful hands and workers, beside that the tourist also have to change to take part in creating some simple produces at here, by this way you will keep the memories and experiences about a fun and meaning trip to Hoi An.  Hoi An Handicraft Workshop is also the place for the tourist to buy the souvenirs which prices and produces are very diversified and reasonable.
5. ECO TOUR HOI AN- BECOME A REAL GARDENER IN TRA QUE VILLAGE
Escape from the bustling city just about 15 minutes by cycling from Hoi An old quarter, you will enjoy a farming area with nice weather and lovely people, a green area called Tra Que vegetable village. It's an easy bicycle ride and a quite scenic one. You will see rice fields, glassy rivers, and lazy water buffaloes lounging in the mud.  Here, you will be involved in the process of growing vegetables as a real farmer and have more knowledge and understanding of the working life of the people in the village. This will definitely be a real experience that you cannot forget!
You are fascinated by watching the farming procedures of local farmers, including: raking the ground, sowing, watering, picking vegetables and many other activities which are rarely seen in modern daily life. But before going "a real farmer", they will be admired the taste of Tra Que vegetables at the display, introduced at the welcome guests. After bathing, rest, visitors will enjoy the dishes processed from the green vegetables Tra Que and the "delicious long memory" of Quang Nam such as beaten cake, cauldron, mussel, shrimp, Quang noodle, Hoi An…
Besides, Seatrek  tour to Tra Que village is also a great choice for your experience. See Hoi An Eco Tour
6. HOI AN COOKING CLASS- MAKE A REAL VIETNAMESE PANCAKE
There are dozens upon dozens of cooking classes available in Hoi An and which one you should choose simply depends on preference. Several of the strongest cooking classes are attached to popular restaurants, such as: Seatrek cooking class, Vy's Market Restaurant & Cooking School ,  Red Bridge, Green Bamboo
There are dozens upon dozens of cooking classes available in Hoi An and which one you should choose simply depends on preference. Some are held in restaurants in town, with an abridged crash course that take as little as an hour. All the dishes are exotic, tasty but easy to cook with alternative ingredients in our country. A lunch with dishes prepared by yourself, a cute recipe booklet and certificate will make your trip more memorable.
7. BA NA HILLS TOUR 1 DAY
Located among forested hills, about 30km west of the center of Da Nang, Ba Na Hills is the stunning mountain resort that features with varied flora and fauna, including many rare animals, such as Crested Argus, and Asian Black Bear. There are more than 540 species of plant in this area.
You should travel to Da Nang from April to September each year, because this period is less dew, vibrant and bustling, you won't be bored. During the period from November to January, there are many dew, cold weather, inconvenience when strolling sightseeing.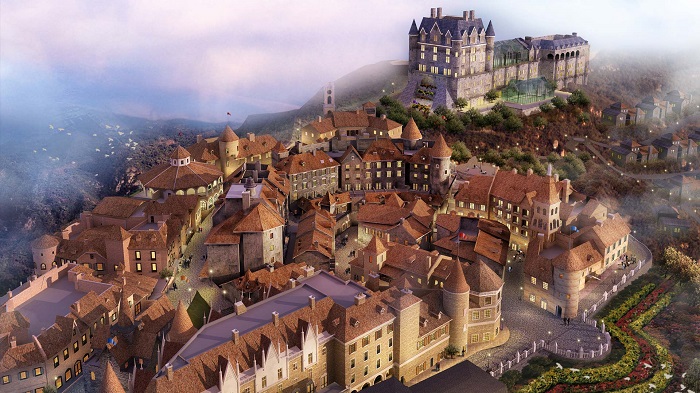 At the cable car, you buy cable car tickets to the top of Ba Na at the ticket counter at the foot of the mountain. On the weekend or travel season, tickets at the ticket counter have to queue for a long time. Lining will make the baby feel tired. Therefore, you should book tickets at Ba Na Hillss office at 93 Nguyen Van Linh, Hai Chau, Da Nang in advance.
Referring to Ba Na Hills, you must know the cable car which has many records in the world. Old cellar of Debay: is a unique French-built building from ancient times, is an ancient cellar with a length of 100m and always keep the ideal temperature from about 20 degrees. You must siscover new feelings in a French wine cellar when you travel to Ba Na Hills. Le Jardin: there are 9 gardens in different styles. The variety of colors is a destination you should check in and take some beautiful photos.
Seatrek also suggests you a BaNa Hill tour for 1 day. You can have a chance to explore the Ba Na Hills with a small group and guide during the tour from Da Nang. Visit area highlights such as the Man Tha fishing village, Vong Nguyet Hill, the Le Jardin d'Amour flower garden, Linh Ung Pagoda, and others. Lunch, cable car ride, and round-trip transportation from Da Nang city hotels included.
8. EXPLORE DA NANG CITY TOUR- PRIVATE ONE DAY TOUR IN DA NANG
Seatrek will take you to the most popular sites in Da Nang: Non Nuoc Stone Carving Village, Marble Mountain, and Linh Ung pagoda.
Non Nuoc Stone Carving Village:
Apart from its great beaches and beautiful landscapes, Da Nang boasts the Non Nuoc Stone Carving Village, which is a typical and unique craft village to the south of the City. Situated at the foot of the Marble Mountains in Ngu Hanh Son District's Hoa Hai Ward, this craft village has a proud history covering more than 200 years. Stone carving was based on the experience and skills passed down from generation to generation, but there are now professional training courses. There are over 300 carving businesses in the village, with thousands of carvers.
Marble Mountains:
Located about 7 km south-east of the city, Ngu Hanh Son Mountain includes 5 mountains: Kim – Moc – Thuy – Hoa – Tho. Not only beautiful mountain scenery but also many traditional meanings associated with religious events and festivals. If you come here on February 2 lunar month, you will have the opportunity to attend Quan Yin Festival.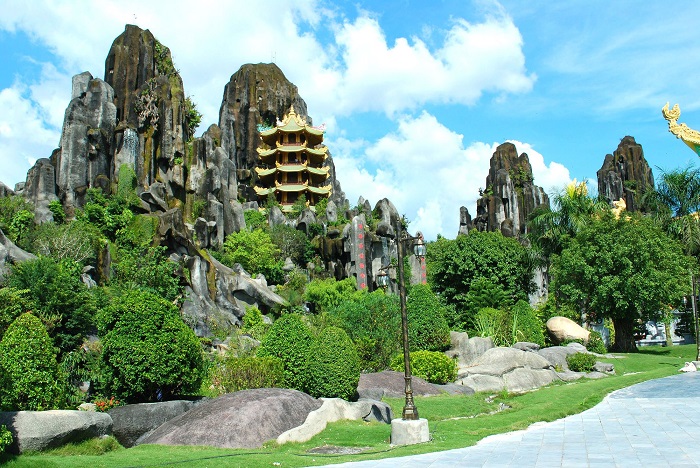 Linh Ung Pagoda:
This is the biggest temple in Da Nang, with its back resting on the vast primary forest of Son Tra Peninsula and facing the sea. The most famous pagoda in the temple is the statue of Buddha Avalokitesvara, 67 meters high and 35 meters high – is equivalent to a 30 storey building. Local residents on Son Tra peninsula recalled stories relating to the existence of the pagoda. It can say, Linh Ung Bai But pagoda was built in a newly formed tourist complex of the city – Son Tra Peninsula tourist area, in the most prime location of this region, the pagoda has become a place of worship, living, studying of monks and nuns, Buddhists as well as a sightseeing place of visitors.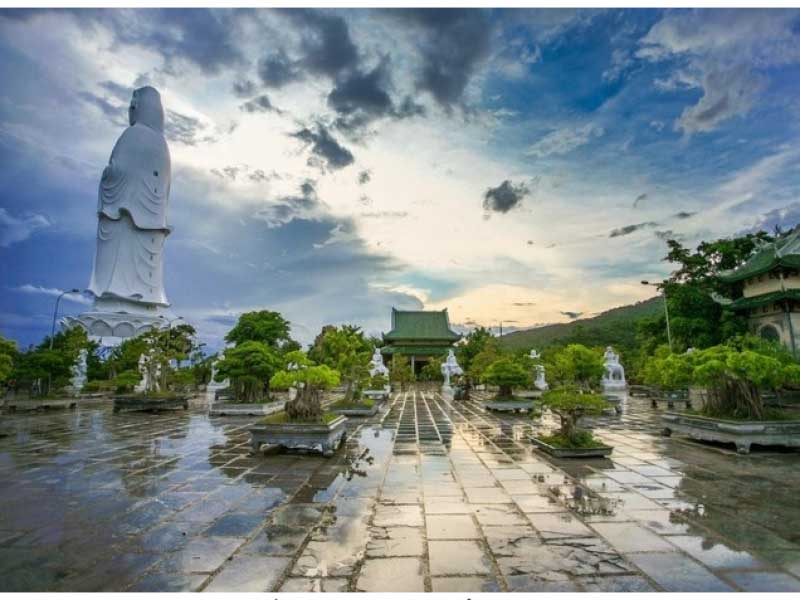 If you find it too difficult to make a decision about going to what Da Nang tourist attractions, you just make a phone call for tour company. We suggest you some wonderful tour in Da Nang now: Explore Da Nang city tour- private one day tour 
This is the list of tours for your travel to Da Nang Hoi An. For more information, you can contact us or read some information in our website. Hope you have a nice trip in Viet Nam!
0