Cham Island is a group of islands in Tan Hiep commune, Hoi An, Quang Nam. It is about 20km from Hoi An and 40km from Da Nang city. Cham Island is an attractive destination for many local people to choose from for weekend trips. It includes 8 islands: Lao Island, Mo Island, Khoi Island, Dai Island, Con Island, Tai Island, Ong Island and La Island. There are many beaches with long white sandy beaches and clear blue water that can be seen down to the sea floor. The rest of year has bad weather with rough sea and storms. Boats is almost impossible to go to the island, the island became an isolated area.
Best time to go?
The best time to explore Cham Island is from March to August, the weather in Cham Island is very cool, sunny, peaceful sea, green, very suitable to soak in cool sea water or diving coral viewing. You just need 1 day to discover Cham Island or if you need more time to discover more, 2 days are enough.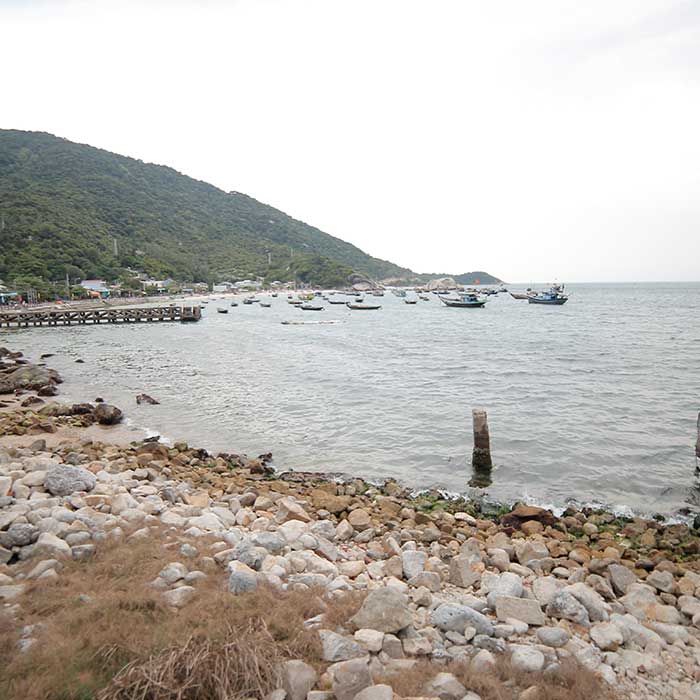 The best time to explore Cham Island is from March to August
How to travel to Cham Island?
You can move to the island by 3 types of vehicles. If you want to travel by canoe, it only takes about 20 minutes for a turn, if you have enough money and prefer a strong experience, choose a high speed canoe. Although the cost is quite high compared to other vehicles, but the feeling of floating in the sea with cano will not make you disappointed with the cost of 120,000 VND / pass. By wooden boat, this means fare cheaper than cano, about 200,000 – 250,000 VND/ round trip. For those who are seasick, do not choose wooden boat for wooden stunt and take more time (about 1 hour). This means less choice. Small boat is same as wooden boat, slower moving boat will take you about 1 and a half hour or more. In this way, you only pay 30,000 VND / way which is cheaper than many other means. The boat usually departs from 7:30 am to 8:30 am, depending on the boat's departure.
Cham Island homestay
If you just discover Cham Island for 1 day, you don't need to rent. But if you intend to stay there for several days, you should think about your accommodation. Don't worry, we also recommend you some homestays which have reasonable prices. There are many Cham Island homestay that are quite comfortable, beautiful but cheap. The price per one night is from 50.000-100.000/ person or 150.000/ room 2 people. You can go to Hammock Cham Island homestay which is located in Beach Lang, Tan Hiep, just a few hundred feet away from Cham Island. This is considered the best homestay Cham Island in terms of quality as well as service. Next, Beach Huong Cham Island homestay is also a good choice. Beach Huong Cham Island homestay is located in the heart of Huong beach. The mind is designed in a single house to make the guests feel more comfortable. If you don't like those homestays, you can have a look at Trang Vu Cham Island homestay. The service is also good, the room is equipped with television. The owner also lets you have BBQ at night which is very interesting.
If you travel with your family, you can rent a boat to tour around the island. These locations are quite close together, only a few dozen meters away to another location. It is also a chance to chat with local people here to promote the unique features of Cham Island. Snorkeling on coral reefs is an indispensable activity. Most tours offer scuba diving. We highly recommend you to try our tour and sure that you will have a memorable experience in your Viet Nam trip. There are some basic information about our tour below, if you want to know more, you can contact us through website or phone.
If you can walk and breath, you can SeaTrek
During the tour, fish of all shape and colours, local marine life will surround you.
You will have a delicious lunch and relax at the Unique ecological Bai Chong beach of a Word Biosphere Reserved Cham islands recognized by UNESCO.
Experience the adventure on our VietNamese wooden boat.
Snorkeling, swimming, relaxing during the tour.
Some infomation about Walking Underwater Tour of Seatrek
Our tour begins at Cua Dai wharf by Vietnamese traditional boat. It takes about 1 hours. On the deck, you have time for relaxing, sight seeing. At the location, the Guests can swim, snorke and join in "Walking underwater Tour". Then, we will move to Bai Chong beach by a small boat. Having a lunch, after lunch, guests can swim or just relax in the hammocks. The tour finish around 3pm.
With a beautiful natural scenery dream with ecological green trees, you can not miss the chance to go to Cham Island by motorbike. The road on Cham Island is quite shocking, so find yourself a steady driver for the trip. You can ride the motorbike on the hills, the mountain pass, watch the blue sea with the surfing waves on the white sand.
You should visit natural landscapes and have fun. When you are just at the Cham Island pier, you should take advantage of the early time, you can go up the mountain to take a walk and visit the beautiful scenery here such as Museum of the Sea, Hai Tang Pagoda, Tan Hiep Market.
See more
Snorkeling Tour
Snorkeling Tour in Cham Island
When you go to Cham Island, you can not forget to enjoy a variety of fresh seafood, such as Vu Nang snail, rock crabs, abalone and other wild vegetables, cucumber leaves. About rock crabs, rock crabs do not live in the water but live in mountainous forests in Cham Island, where their daily food is leaves and roots. Rock crabs are crabs that have a lot of solid, fatty brick. The crabs are big, full of meat, 100% crab bricks. The "crabs" weighing is around 300 – 500g. In the beach, there are many restaurants that serve this kind of seafood. Most of the dishes are fresh with reasonable prices.
After resting for lunch, if you don't want to dive to see corals, you just go swimming. The beaches of the island are so clear, and people and local authorities are pressing to keep the environment. So, when you come here, you should avoid the indiscriminate littering, invasive of the island plant systems.
A few note when coming to Cham Island
When diving into to see the coral, you are not allowed to break or carry coral in the restricted area on Cham Island island. You should not use any plastic bag when visiting the island Cham island. You can carry all kinds of identification papers for convenience of chartering, renting motorbikes; and should bring medicines which be used to prevent seizure, abdominal pain,…Remember to carry small luggage, lightweight clothing, comfortable clothing, bathing suit, equipped with marine accessories such as hats, sandals, glasses. If you intend to camp overnight, carry insect repellent. Be prepared in the backpack of the things that are indispensable for your children as follows: hat, umbrella because it is very hot in the summer to avoid sunburn. Jackets, pants, swimwear to bathe in coral reefs are also necessary for your trip in Cham Island.
Hope you have a wonderful trip in Cham Island with Seatrek. For more information about Da Nang, Hoi An, Cham Island, feel free to contact us.
0