Attracting tourist with wild and pristine beauty, in this summer, let's go to Cham Island and join Cham Island Excursion – one of the beautiful and romantic beaches of Vietnam, has a glamorous beauty with white stretching sand beaches. This is a perfect place to combine a beach visit with a good walk.
From the very moment you get on the island, you will know that you made a right decision by booking a tour in a stunning destination. With Cham Island, you not only soak in the clear blue sea, the gentle white waves, but also enjoy the famous specialty here.
Cham Island Excursion – the unspoiled green island
​The first expression when you set foot on the island is crystal turquoise clear water and powdery sand beach under coconut shape. Cham Island has been not unspoiled by pollution. Perhaps the simplicity and beauty of nature with serene and gentle beaches is typical attraction of Cham Island.
In addition, the shores beside pristine forest are also planted coconut palms makes it more and more beautiful, gives you a sense of freshness. So that if you go to Cham Island, you not only be one with the sea, but also discover the cool green forest scene. It will offer you a feeling of pleasure.
Not just a great beach – here you will also enjoy the amazed and unique cuisine. The seafood here is especially fresh and delicious. Let try Vu Nang Snail, Dry Squid…if taking Cham Island excursion.
See more: ​cham island one day tour
Cham Island – The best choice for hot summer
​Whenever the summer is coming, everyone almost want to go to beach. If you love beach, there are no place perfect than Cham Island for you. Basking in the soft clean sand after soaking in the clear waters, thanks to the fine sand and calm waves is so interesting to
There are many activities for you beside swimming. If you like adventure, let join scuba diving to discovery the colorful coral reefs, or the fun games on the beach as though flying. Especially let try to join seatrek – underwater walking – a new great activity has been started in Cham Island.
See more: walking underwater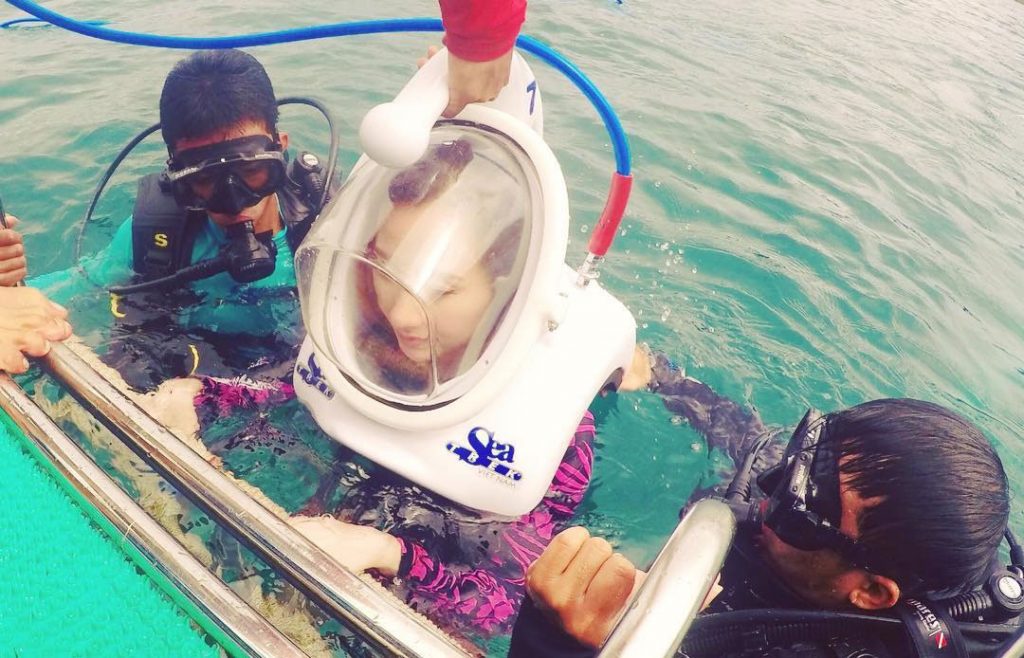 Not only has spectacular scenes thanks to the Creator of nature. Cham island is also a green island of environmental protection. The people and the local government also launch the environment protection campaigns to make the emvirontment more and more beautiful than ever. Thus Cham Island tourism is growing and there are more people going here.
See more: ​cham island snorkeling tour
Itinerary for 2 days and 1 night trip to Cham Island
Cham Island is a historical and cultural relic being associated with the formation and development of Hoi An ancient town. In the past, this area played an important role in the international maritime map in The East Sea. This commercial port had been a familiar stopover of business ships from many countries in the East and the West with shipping routes on the sea along the way of aromatherapy, silk, pottery.
In this article, we will share you the real experiences to Cham Island from a Vietnamese backpacking tourists- Viet Anh. He will summarize the schedule of discovering Cham Island in 2 days 1 night for your reference.
Note:
This article is written on the schedule by high speed train and by slow boat in Cua Dai. You can definitely buy a slow train ticket in Hoi An ancient town. Or buy a shuttle tour at the hotel!
The most appropriate time for travelling to Cham Island is from March to August of year because this time always has good weather, sunny sky and calm sea. The rest of year has bad weather with rough sea and storms. Boats is almost impossible to go to the island, the island became an isolated area.
Day 1: Hoi An – Cham Island – Motorbike around the island – Boat ride around the island – Dive into the coral – Watch the sunset – Watching night sky
– 9am:
My cousin and I were at Cua Dai pier to buy ticket for slow boat then get high speed train, but we were late 5 mins for the boat. We continued to come back to buy high-speed train tickets. Ticket price is 200.000VND/ person to join the delegation, however, we have friends who specialize in making tours so we have a good deal with 150.000VND/ person.
– 9.30am:
We were waiting for transplantation and then rolled up the same ship. The high-speed launchers, surfing on the waves like speed torpedoes, many girls on the boat were very scary while boys were quite interested. This day has a beautiful weather.
– 10am:
We reached the island and meet the owner's homestay- Mrs.Tinh in Lang Beach. If you want to have more contacts for booking hotel, you can refer this article. The homestay is not only offering accommodation service, but also offering: catering services, laundry, car rental, tour guide, boat rental, diving … People are very gentle, friendly and enthusiastic to help traveler. Then, she led us to see the room but also because the Lang Beach is not bathed so we moved to Ong Beach.  Thanks her call uncle Thanh (Tam Hien homestay).  We were so surprised that she enthusiastically called, 5 'after, Uncle Thanh arrived and picked us up. Because Mrs. Tinh has husband to do the boat ride around the island so she appointed that at 1:30 pm, she would take us to the boat and dived to see the coral.
– 10.30am:
We stayed in Mr Thanh's homestay (Tam Hien homestay). It was quite comfortable which has enough equipments. Then we rented a motorbike around the island. I thought this was a good decision cause the road on the island is one side of the sea, one side of the mountain with the old green forest. We runned around the island, wandered to take a lot of photos. The view was beautiful, the sea was also green.  There are many beaches for swimming: Bac beach, Ong beach, Lang beach, Xep beach, Chong beach, Bim beach, Huong beach. You should always rent a motorbike to the island, because the rent here until 8am the next day, so whether you rent sooner or later, we also pay.
 -11.30am:
My brother returned to Uncle Thanh's homestay. Then, he cooked for us with price of 50.000VND / person. There were so much food, such as: fish, seafood, snails and fried eggs. After lunch, we were so full and went to sleep in the hammocks. At that time, I met two American friends in the same homestay Patricia and Ruth. Patricia is a preschool teacher in Saigon, she has lived in Vietnam for 6 years, speaks a little Vietnamese. We made friends quite fast and the crew agreed to take a boat around the island. The tips is you can ask the owner of homestay to cook for you with low price. All of local can cook very well and you can have a good meal with seafood.
– 1.30pm:
After lunch, we took a rest until 1.30pm. Then, we walked to the pier, took a boat to visit around the bay, fishing, snorkeling to sea view coral. There are 6 people in the homedstay. Price of boat is 150.000VND / person. Boat trip would across the village, Kep beach, Chong beach, Huong beach then got to Bird nest island. Each time through a beach is different scenery. For me, I like the Chong beach because the water here is very blue. There is white sand, green coconut and especially less visitors. Another point on the way is the island of bird nest. Uncle Quang said that only in Cham Island, there are bird nests. All of them are natural so they have high quality and expensive price.
The next journey is to stop fishing. We went fishing for 1 hour but we could not fish anything. We got bored so the whole group went to bathe and dive to see the coral. At the beach, there are many sea stars, sea urchins, fish, sea crabs … but sadly, the coral has died a lot. I guess that because of tourists coming here, the beach is so shallow so they easily make death coral.
– 4.30pm:
After swimming, diving, we were all tired so we went back to homestay.
– 5.15pm: We drove together to the mountain for watching the sunset. I was so extremely interested. I liked to see the tiny city of Da Nang at the end of the skyline, Son Tra mountain,… A beautiful picture! This is an interesting experience on the first day.
– 6.30pm:
The owner had ready prepared snails at the table. We tried her snail (50.000VND / plate), oysters (20.000VND / piece), abalone (100.000VND / small plate) and rice (50.000VND / person). Uncle Thanh was very delicate when cooked, then just waited for the hungry tourists to come back and eat. The smell of oysters, snails could not be resisted. This was also an wonderful dinner for all of us.
– 8.30pm:
The night in Cham Island had many stars. We just laid in the hammocks and watched the night view. This would be the last activity in Cham Island for first day.
Day 2: See the sunrise – Visit the ancient well – Hai Tuong Pagoda – Back to Hoi An
– 4:30am:
I woke up and Patricia and Ruth also were ready. The way to see the sunrise was different from the way to see the sunset. It was so close so we could save time. The dawn in Cham was so beautiful because the East Sea does not have anything to cover, only the sea and the sun.
– 5.30am:
We were still waiting until the sun sprout up. The sun liked egg yolk rising slowly – a new day began. What we enjoy was not the sunrise, but the air beneath the cliff. There are monkeys who were watching the dawn. Monkeys in Cham Island were also very romantic!
– 6am:
When the sun was high, we climbed on the motorcycle and led two Americans around the island to see the beauty. This trip was the view of the beach from a distance (on the boat) and now viewed from above, each corner had a different beauty. On the way we had to visit the heritage tree, and Huong beach and take many pictures.
– 6.30am:
We were back to Lang village and then visit the Hai Tang pagoda. This was the ancient pagoda nearly 400 years old (built in 1758). Hai Tang Pagoda is famous for being a sacred place, a place of worship of the Buddha combined with holy worship to meet the needs of the people on the island. The temple was built in 1758 at the foot of the mountain to the west of Hon Lao Island, which has long been a must-visit destination when traveling to Cham Island.
– 7.00am:
Next point, we reached at Cham ancient well. This well was built by Cham people themselves and two Americans were so interested in this well. This is the only freshwater well on the island, as evidenced by the fact that when people dig wells in other locations, no fresh water is found. In 2006, Cham ancient wells were ranked as national monuments. Situated on the junction of the Cam village residential area, Cham ancient wells are the source of abundant water for the villagers with no water resources ever exhausted. You guys can also visit there to hear people talk about its history.
– 7.30am:
After the tour, the group returned to Uncle Thanh's homestay. We gave him back our motorcycle. Then we were lying in the hammock to take a rest.
– 10.00am:
We picked up some Vu Nang shell as a souvenir. We had a farewell with this uncle and walked back to the beach. He played, then the wharf waiting for the train.
– 11am:
We catched a boat then back to Hoi An. We also suggest you 3 options for vehicle traveling to Cham Island.
Canoe: It only takes about 20 minutes for a turn. You can choose a high speed canoe. Although the cost is quite high compared to other vehicles, but it will not make you disappointed with the cost of 120,000 VND / person. If you travel in the week day, it can usually be 150,000 VND
Wooden boat: This means fare cheaper than cano, about 200,000 – 250,000 VND/ round trip. For those who are seasick, do not choose wooden boat for wooden stunt and take more time (about 1 hour). This means less choice.
Small Boat: Same as wooden boat, slower moving boat will take you about 1 and a half hour or more. In this way, you only pay 30,000 VND / way which is cheaper than many other means. The boat usually departs from 7:30 am to 8:30 am, depending on the boat's departure.
3. Enjoy new experience with Seatrek Viet Nam
Cham island is a small island, you just spend less than 2 days 1 night for discover all the beauty in this place. However, if you do not have time, you can stay more and enjoy more. Average price per one person is from 450.00VND to 570.000VND (hotel and lunch). There are many interesting services in Cham Island, such as scuba diving with oxygen, or walking in the sea. You can book a walking undersea tour in Seatrek. Tourists will be fully equipped with life jackets, snorkel, diving equipments. In the form of a shallow diving, visitors will be observed coral at a depth of 3m, just face down to the water is able to admire the natural picture under the colorful sea. For those who want to experience. A more realistic, more adventurous one can choose to dive deep at depths of 6 meters above sea level. Each person will have an accompanying instructor and be taught the necessary gestures in the event of an underwater incident.
We hope that these experiences will make you have a good trip in Cham Island. Feel free to share us your beautiful photos with this wonderful land!
Cham Island Excursion – best trip for spending your summer holiday!
0