The Central part of Vietnam is extremely rich in heritage and history, including 4 UNESCO World Heritage Sites. Hoi An, located one hour and a half south of Hue, remained the most important trading center until the 18th century. You will feel peaceful, relaxing when coming to this ancient town. Next, My Son is the burial and religious center of the region. The area's rich past provides a dose of history to the modern and beach-like atmosphere of Da Nang and ample opportunities to fill a trip. If you want to experience all places above but you do not know which is the top hotels in Da Nang and Hoi An, you can have a look in this article.
1. Top hotels in Da Nang
Being a famous tourist city, Da Nang hotel is very diversified, depending on the customer's condition, you can easily choose a suitable hotel. Here is the top hotels in Da Nang that Seatrek wants to suggest you.
This is the two-star hotel. It is located near the sea, near the city center, and very close to food streets. The beach area in front of the hotel is also the crowded entertainment and most beautiful beach – My Khe beach. The hotel was opened in 2016 with a very modern design, furniture is beautiful and full of facilities which are always satisfied visitors.
This is the first hotel chain in Da Nang. It has ideal location in the heart of the city (next to the night market), about 500m from the Han River, and 1.5km from the Han market and Con market. In addition, the hotel also offers business center, elevator, secure parking, free of charge. Room price: from 250.000VND / room for 2 people. From 400.000VND / double room of 4 people – quite reasonable.
It is located in the center of My Khe Beach. The hotel is located by the sea, 1 km from the center of the city from the Tran Thi Ly bridge. There is a nightly music festival in the sea and the day is a dove for couples to take romantic wedding photos. It has full of facilities for guests. Price is pretty soft which is from 250.000 – 300.000VND.
It is located at Lot 1 B4.4 Truong Sa, My An Ward, Ngu Hanh Son District. The hotel has two fronts overlooking the sea so you can walk to enjoy fresh seafood in the coastal road. From here to all the tourist attractions in Da Nang are super close and favorable. The price is very good which is from 300.000VND (room 2 people) to 500.000VND (room 4 people) – 700.000VND for vip room. You can book via the reception: 05113.961.888 – 0988.000.835 – 0988.000.875.
Price from $30 (regular promotion 50%, only $15 – $17) located in 305 Nguyen Van Thoai which is very near My Khe Beach. The hotel has beautifully furnished, modern, car rental, shuttle service, etc. At the popular price, this is one of the hotels in the top, the quality of service is highly appreciated.
Sea Phoenix Hotel Da Nang
Located in 115 Xuan Huong Lake, close to Bac My An beach. With prices ranging from $26 to $50, the hotel has beautifully furnished, modern (see link at the link) with many services: outdoor swimming pool, sunbathing, car rental, café. Along with the Song Cong hotel, this is the second most popular hotel in Da Nang in the segment.
This five-star standard hotel is located in 105 Vo Nguyen Giap, close to the beach of My An. The hotel is extremely majestic, has all the entertainment from basic to advanced: swimming pool, gym, spa, children's play area, boating area, motorboat, tennis courts, billiards, fish and so on.
Located in 162 Bach Dang, four-star standard (near Han River Bridge). The hotel offers a range of services such as: swimming pool, gym, spa, karaoke, sauna. Compared with the Furama Resort, this hotel is less than satisfactory, but its price is very good, only $79. Of course, the interior is beautiful, the quality of service and delicious food. If you have no need for other surplus services then this is the hotel you should choose in the price range. This is the most popular luxury hotel in Danang
Hyatt Regency Danang Resort and Spa
Five-star hotel is extremely majestic, located in Ngu Hanh Son, near the beach Non Nuoc. This hotel is full of facilities, swimming pool, garden courtyard beautiful. It also has swimming pool (adult, children, hot water), golf course, spa, huge gym, tennis court, etc. This is considered to be a match for Furama Resort, but its price is not cheap, up to $230/day and night.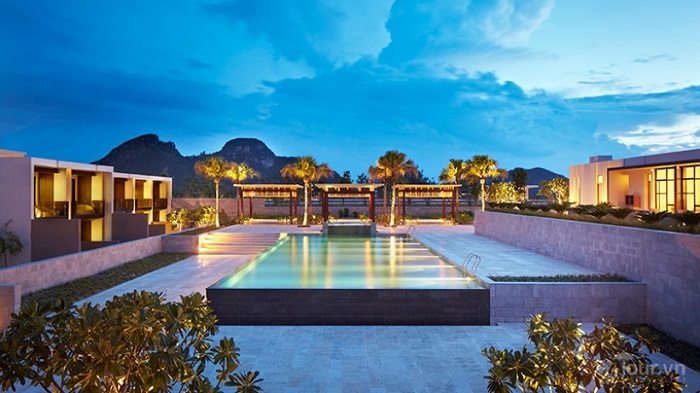 Located at the intersection of Trieu Nuong, 5D Upper Dorm is a brand new residential area for young people. The space of the dorm is not too wide but extremely clean and private. Dorm has a lot of colorful details hanging from the wall to the bottles and vases with eye-catching designs, and a common living room with musical instruments, TV, game machine … to serve the entertainment needs of visitors. Decorated in warm yellow, gray and white tones, the feel of the 5D Upper Dorm is both luxurious and peaceful. Dorm rooms are available as 6 people, 8 people room, 4 bed rooms for female guests … Each room is fully equipped with air conditioning, fan, desk, hair dryer, reading lamp And the money you have to get out of a purse for a night here is just 150.000VND!
If you have come to Da Nang to skip the hostel in this nostalgic style is a great omission. True to its name Memory, the hostel is located on Tran Quoc Toan Street, which is a place where the past is intertwined. The entire building is covered with dark brown brick tiles with a unique art of setting, which is dotted with black-and-white windows. The nostalgic architectural style is exemplified by the floral patterned background, furniture such as cement casters, wood flooring and decorative items are unlikely to be caught in modern times. Double room rate is 400.000VND / day. Triple room is about 500.000VND/ room for 4 people. Address: 03 Tran Quoc Toan street, Phuoc Ninh, Da Nang city. Tel: 0511 3747 797
Simple yet elegant design, not as inferior to any high-end hotel, but the price is extremely reasonable, these are the first reasons why you should choose Like Backpacker for your journey to discover in Da Nang. Let's say, there are rare cheap hostel. Choose a bright yellow tone interbedded brown, the room here look both cozy and clean. Meanwhile, the bar area and coffee shop are designed to break away with more unique tones, creating a sense of not being boring. Like Backpacker Hostel is similar to many other hostel classifications, with a dormitory with bunk beds for up to 8 people, a 6-person room, and VIP rooms for those who like privacy. Looking at these shimmering images, few people believe the price of book room here is also "chestnut" no less than the two friends above, only 150.000-500.000 / person depending on room type.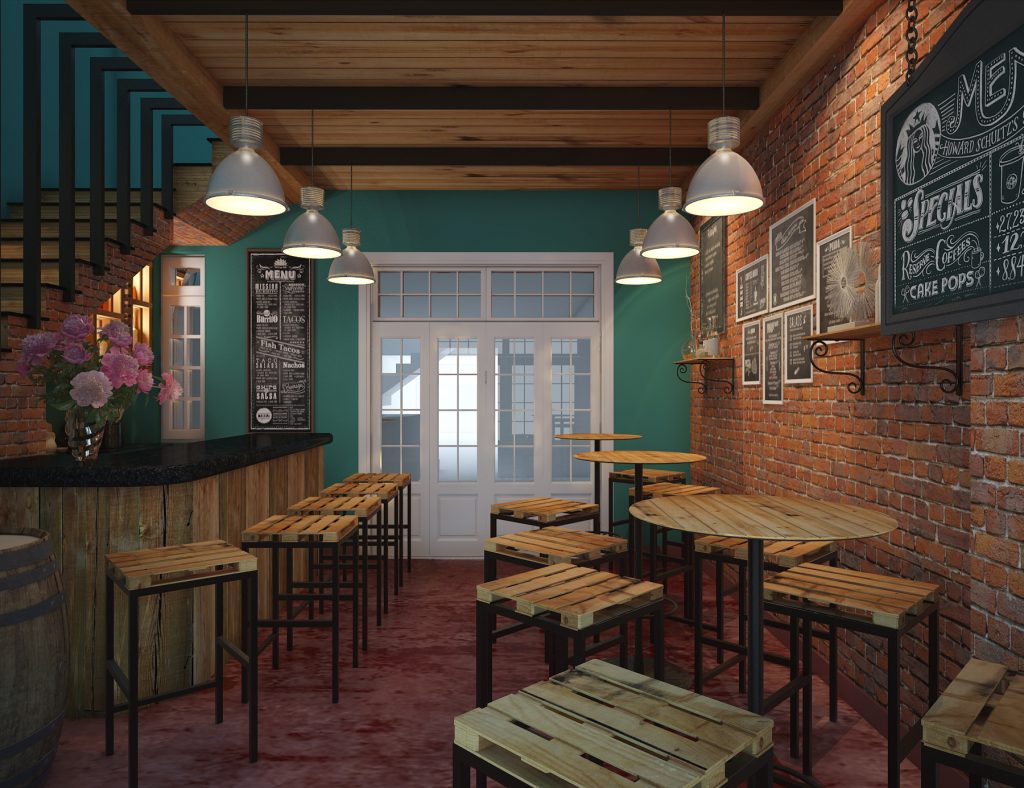 2. Top hotels in Hoi An
Hoi An ancient town has become famous in both domestic tourists and foreign tourists. Finding a place to stay in Hoi An is not difficult when there are so many services, such as Homestay, Hotels or Resorts. Today, we will introduce to you about top hotels in Hoi An.
Hotel- a popular choice in tops hotel in Da Nang and Hoi An list
In addition, hotel is also a great choice for young people love the convenience .There are so many 2 Star hotels in Hoi An .In general, many hotel are good with reasonable price. This is the kind of deluxe rooms, the price of 500,000 VND / double room, the older has cheaper prices of 250000 VND / double room. For example , Green Field hotel is also a great choice with less than 500000 VND. This hotel has enough equipment for you to use. Moreover, Southern Hotel & Villa has a little higher price with a beautiful swimming pool .
It  is located at 10 Tran Hung Dao Street, Hoi An, Quang Nam. This central location is convenient for tourists to visit landmarks of Quang Nam – Da Nang. Tourists can access stunning Cua Dai beach by hopping on a shuttle bus that runs on the fifteen minutes. It has 150 international-standard rooms and suites in low rise blocks spaced throughout lush, shady grounds. Hoi An Historic Hotel is an international hotel which has 4-star standard. Recently, it has been renovated to maintain the original architecture. The hotel has a large lobby, high ceilings, natural light and spectacular views. Also, it is combined with modern design and tradition to create a quiet space and harmony.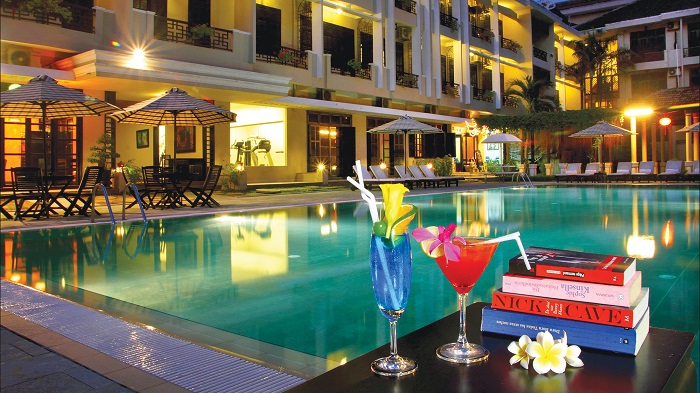 De An is a 4 star Boutique Hotel has a restaurant, outdoor swimming pool, a bar and garden in Hoi An. Boasting family rooms, this property also provides guests with a terrace. The accommodation features a 24-hour front desk, airport transfers, room service and free WiFi throughout the property.
Popular points of interest near the hotel include Assembly Hall of Chaozhou Chinese Congregation, Hoi An Historic Museum and Assembly Hall of the Hainan. The nearest airport is Da Nang International Airport, 29 km from De An Hotel.
Sun River Hotel Hoi An is located on the waterfront of Hoi An. From the hotel, you can collect the whole beauty of Hoi An River, Old Town and exciting activities, the busiest of Hoi An and the sights . You can rent a bicycle to visit the hotel's tourist attractions. Along the way you can shop and enjoy the rich culinary diversity of Hoi An. Hoi An River Sun Hotel has 30 rooms which are all 3 star standard. They have modern furniture, full equipment, more liquor cabinet for vip room, free snacks … The most attractive things in Hoi An River Sun Hotel services are an outdoor pool, pool side bar, restaurant, cafe, garden, spa and massage…With these conditions, Sun River Hotel Hoi An is a cheap hotel with quality and convenience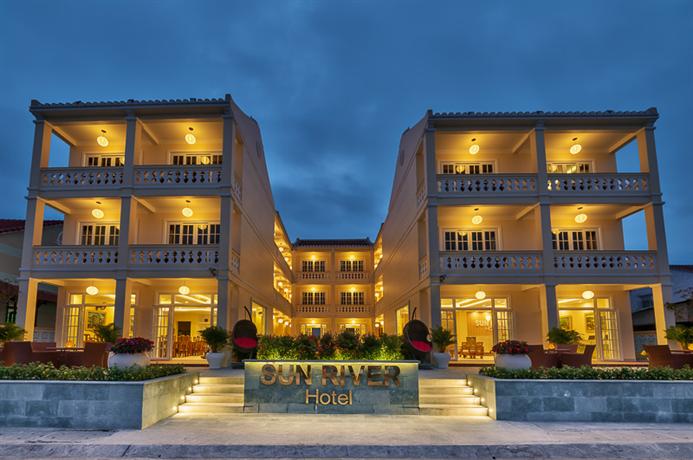 We can say that Anh Duong Hotel is one of the most beautiful and cheapest hotel in Hoi An. Not only the prime location, beautiful views, 36 spacious rooms, Anh Duong hotel also has good balconies and full amenities and services you need. Especially, Anh Duong Hotel also makes tourists happy with a spacious outdoor pool. They also have excellent spa services; romantic cafes. The restaurant can accommodate 60 people which serve all dishes and specialties from Europe. You just take about 5-10 minutes for walking to visit some famous places such as Hoi An ancient town, Hoi An market, Hoi An hospital, Tran Family Temple , Phat Hac pagoda, Japanese bridge, Tran Family Temple…Service attitude and the quality of staff is also an outstanding points of this hotel.  They are very friendly, enthusiastic, dedicated and proficient in English.
Homestay- staying with local resident?
Homestay is a popular choice for tourist's holiday .They will be at the home of local people and have a chance to have a close perspective and understand the way of life and culture of those people here. There are some famous homestays in Hoi An. You can contact Ms. Chau at No. 09, opposite to Vinh Hung resort, close to the night market. This family has many rooms with full equipment such as air conditioning, water heater, TV, also Wifi with reasonable price.
Address: 43 Nguyen Truong To, Hoi An
Tue Tam Homestay is located in Hoi An Ancient Town. It is classical but also very modern. All are equipped with modern amenities such as air conditioning, tile floors, TVs, refrigerators. Each room has a private bathroom and free toiletries.
Address: Lac Long Quan, Cam Thanh
This homestay is surrounded by a garden and a lovely pool. When you are here, you feel like you are at home. All the scenes here are very familiar, appear like a picture of the countryside. Surrounded by a garden and a very charming pond, close to the beach so you can walk. Then back to enjoy family dinner is very cozy and delicious. The space in each room is too airy, comfortable, blankets, mattress flowers, green bed feeling close to nature fresh green.
Address: 331 Cua Dai, Hoi An
Oleander Garden Homestay is located in the heart of Cua Dai Street, only 1.5 km from the beach and 1 km from Hoi An ancient town. There is a large garden, overlooking the garden.
Address: Cam Thanh, Commune Cam Thanh
Ferry Homestay Villa is located quite far from the old town center, however it is very close to the sea and right next to the Ecotourism Forest and the Cua Dai Pearl Forest. If you want to escape the noise of the city, want to peace in nature, into the wild life, this is the great choice for you. Ferry Homestay Villa Homestay brings you the tranquility, tranquility of a village.
Address: Group 5, An Bang Block, Cam An Ward
Just a few minutes' walk from An Bang beach, located at block 5 of An Bang – Quang Nam, The Hoi An Hippie House is a place for those who like quiet space, away from the noisy, city ​​of the city. All guest accommodations feature thoughtful amenities to ensure an unparalleled sense of comfort.
Address: 03 Nguyen Duc Canh, Hoi An
Green House – Green House is located at the address of Cam Ha, Hoi An, this is also quite a choice for travelers wanting to experience homestay. It is only 15 minutes from Cua Dai Beach, Tra Que Vegetable Village, it is very convenient for traveling to famous tourist spots in Hoi An, especially Cinnamon Tea Village
Resort- luxury place for couples
Another kind of accommodation in Hoi An is resort. With some couples are considering which places are suitable for their honeymoon, resort is a good idea . Needless to say, Hoi An Beach Resort is one of the most beautiful resorts  located in central position-  1st  Cua Dai. It can be seen as a gold position between De Vong River and Cua Dai Beach. Needless to say, it has a unique view that tourists will satisfy with one hundred percent.
In addition, The Palm Garden Resort Hoi An Beach is also a convenient accommodation. It is located on the tropical garden with about 5ha. This garden has more than 400 palm trees with romantic bungalows .The resort is located on Cua Dai Beach, Hoi An Town, Quang Nam province. The Palm Garden Beach has 212 rooms with 3 types of Superior, Deluxe and the Bungalow Beach Front . All rooms are equipped with natural materials by products from Vietnam like silk, wood and ceramics. With these separated bungalows and luxurious amenities, combined with modern design to a high standard, the resort will give tourists a great experience that people may remember for a long time.
This is the list of top hotels in Da Nang and Hoi An which may be helpful for your trip. Feel free to contact us for more information about tips, experience or tours around Da Nang and Hoi An.
0