Da Nang sea is the pearl of the Central in Vietnam. Famous for its white sands, golden suns and waves surfing blue, ​​Da Nang has a lot of interesting things that you have not heard before. Here are interesting things that people and nature have been favoring Da Nang Sea. When you travel to Da Nang, you need to know all tips for the most meaningful vacation. Let's take a look at our article!
The best time to travel to Da Nang beach is from April to September every year, because the weather is nice without rain. The beach is quite warm so it's suitable for bathing activities.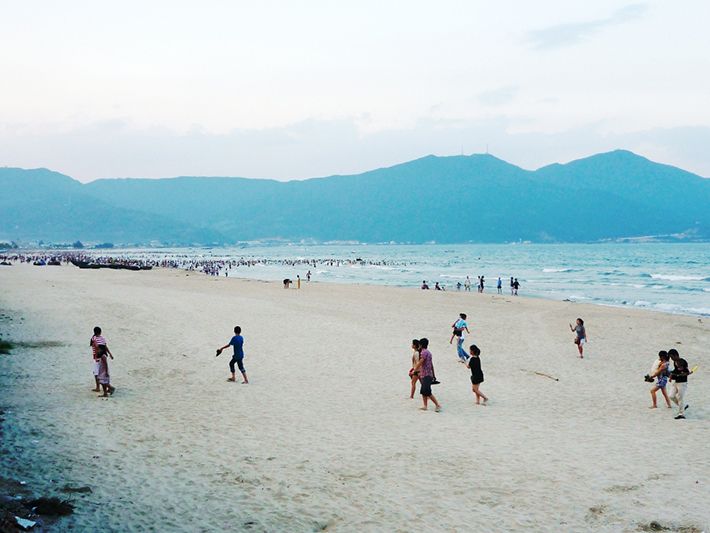 However, for visitors who do not like noisy should avoid the holiday 30/4 because at this time ,tourists to Da Nang are quite crowded and almost all the services here are quite high compared to weekdays.
GO FISHING IN EARLY MORNING
You can have a chance to get a dawn in Da Nang Beach at 5am. You will see the first batch of fish caught early by the fishermen. The fish became more sparkling under the first rays of the day. The fishermen will directly sell the fish to the shore. You should buy fish at this time because the freshest fish and the price is also quite cheap. Surely you will have delicious fish dishes, fresh and nutritious miracle for that morning.
Then at 5.30-6.00am, fishermen will sell at the seafood market or directly to restaurants in the city. If you cannot get up to see the fishermen catching fish, you can buy fish directly in the market, it is still fresh. You can also have more choices in the seafood market.
As soon as you go, the chance of buying fresh seafood will be higher and you will have to pay a higher price. But I think it is worth. Or you can go fishing with the fisherman to enjoy a morning full of vitality.
See more: Fishing Tour in Cham Island
BEST BEACH TO SWIM IN THE EARLY MORNING
If you don't like going fishing, you can go to My Khe Beach, of course, bathing is a must. Seatrek will share with you the bathing area, good quality in My Khe Beach for your reference:
– Beach 1 or 2: These are the main beaches of the coastal city. Services such as car rental, shipping, fresh water bath, environmental sanitation or beach resort investment are quite good. The beach here is green, quite clean, the coast is wide and long, less waves so it is very convenient for swimming.
– Beach park near the center of Pham Van Dong street: This beach is quite compact and almost exclusively for activities in the park.
– Beach T20 – T18: This beach is formed for a long time and very close to Non Nuoc tourist area. The sea here is deep, usually large waves, sand is quite short so it is suitable for those who like challenge.
SOME BEACH GAMES:
When you travel to Da Nang, perhaps you do not know all games in Da Nang Beach which have so much fun. Thousands of fun and challenging games are waiting for you.
1. Canoeing with paragliding flying over the sea
It is at My Khe Beach, one of the beaches of Da Nang attracts visitors by its beauty. Come to My Khe, visitors can experience the feeling of flying in the air panoramic view of nature Da Nang. This activity was thoroughly researched with a high safety level of 70-100m. Participants wear life jackets, security guards, and always have canoes along the bottom. You can try this strong feeling for 500.000VND / 1 person / 1 round.
But going alone will not be comfortable with you, right? Join with fellow partners to enjoy the price of 800.000VND / 2 people / 1 round. So both together play happily, and more peace of mind, especially you just saved 200.000VND then. Time for each flight is 15 minutes.
A note to you is that you should thoroughly check the protective equipment. It is best to ask the facilitator to check. There are many visitors who wear the life jacket wrongly must have been back when landing in the sea.
You can only participate in this activity at My Khe beach.
2. Pulling the banana float
This is a casual sport game, but it brings a lot of fun to visitors. You will wear a life jacket and sit on a banana float which tied to a canoe with a sturdy cable. The canoe sailed at a speed of 50-80km/h. Banana boat float deserves to be the most attractive activity when you travel to Da Nang this summer.
Cano bananas float: 950,000 VND / 3-5 people / 15 minutes.
For ticketing or more information about your game, you can contact Dana Beach – Aquatic Sports Services: 0909 719 558 – 0935 394 003
See more:  10 Activities Every Adrenaline Junkie Needs to Try
3. Diving into coral reef
Deeply hidden under the sea, Son Tra Peninsula is a diverse vegetation. The coral reefs are beautiful in shape and color. There are many lively ecosystems of fish. It is a very interesting and unforgettable experience, with the eyes of the eye, or hand touching the beauty in the vast ocean, in the wrist.cFor those who do not swim, the dive sites will be guided by the staff. The tour price of coral tour is around 1500,000-2,000,000 VND / person.
We also suggest you another choice for this activity. When you come to Hoi An, you can have a walking underwater tour with Seatrek. If you can walk and breath, you can SeaTrek. During the tour, fish of all shape and colours, local marine life will surround you. You will have a delicious lunch and relax at the Unique ecological Bai Chong beach of a Word Biosphere Reserved Cham islands recognized by UNESCO. The tour begins at with pickup at your Hoi An hotel and a short ride to Cua Dai wharf where you will board a Vietnamese traditional boat. It takes about 1 hour. On the deck, you have time for relaxing, sightseeing. At Cham Island, you enjoy swimming, snorkeling and "Walking underwater".
How about Cham island snorkeling tour? Have you ever heard about it? Seatrek also has 1 tour for this challenge. The tour begins at Cua Dai wharf by Vietnamese traditional boat.  The Boat has 48 seats, It takes about 1 hours. On the deck, you have time for relaxing and sightseeing. At the location, the Guests can swim, snorkel. Then, you will have a lunch. After lunch, guests can swim or just relax in the hammocks. The tour finishes around 3 pm
You can click here for more details
4. Camping and picnicking
Camping or camp fire on Tien Sa beach is always a favorite activity for young people. Here ,visitors with their family, friends can organize camping together with entertainment activities, singing, sports. You can even mix into quiet space with nature, wind, sea when fishing on the sea, a great game.
Address: 1 Yet Kieu, Tho Quang, Son Tra, Da Nang, Vietnam
DA NANG BEACH SPORTS
Da Nang Beach is an attractive destination for tourists. Hundreds of contests are held right on Da Nang beach to create more wonderful beauty here. The famous contest has been held in Da Nang and will continue to develop in the future as:
BareFoot: Organized by Holiday Beach. The contest was attended by more than 8000 young people from many places and many other attractive gifts. The contest wants to spread young life and a beautiful beach in Da Nang for many people.
ABG5 Sea Games (2016): Has been honored to be held at the beautiful beach of Danang and received many compliments from many visitors when coming to Da Nang. If you want to join these activity, you can search more information about it.
ENJOY THE FRESH FOOD
This is the paradise of sea food, such as shrimp, crab, fish, squid which are quite cheap.
Now, we would like to introduce you some delicious dishes, specialties in My Khe Beach for you to refer:
– Nam cake.
– Raw fish salad.
– Tuy Loan noddle: Beside seafood, we highly recommend you try some Quang noodles. There are many vendors, such as: Quang flavor 166 Le Dinh Duong,  Khuyen Quang Cu Lu 27 Huynh Thuc Khang, Nang Ha Quang 1A, Quang Ngan 2/9 Street or 108 Dong Da. Then, you can try Mrs Huong porridge at 5 Hoang Dieu, Mrs. Loc porridge 4A Tran Binh Trong. The coastal restaurants such as Little Monk, Hung Fat … in Truong Sa, Hoang Sa street, Thanh Van restaurant or Oriental restaurant are not the bad choice for your taste.
– And some kinds of grilled seafood like grilled shrimp, grilled chicken, grilled octopus, grilled fish, grilled oysters…
Da Nang beach has so many things that visitors have never known. We hope this article will help you for your trip in Vietnam
0