The Central part of Vietnam is extremely rich in heritage and history, including 4 UNESCO World Heritage Sites. Hoi An, located one hour and a half south of Hue, remained the most important trading center until the 18th century. You will feel peaceful, relaxing when coming to this ancient town. Next, My Son is the burial and religious center of the region. The area's rich past provides a dose of history to the modern and beach-like atmosphere of Da Nang and ample opportunities to fill a trip. And now, we will suggest you some things to do in danang and hoi an within 3-4 days.
First, we will suggest you some good accommodations in Da Nang and Hoi An for your trip.
Accommodation in Da Nang
Danang has many resorts, hotels for your choice. Conditions are available at coastal resorts such as InterContinental, Fusion Maia, Furama, Hyatt, Crown Plaza, Life Style, Ocean Villas … or luxury hotels in the city such as Novotel, Mercure, Hoang Anh Gia Lai Plaza. ..
If you go with the more economical form, you can choose the mini hotels along the sea or the Han River as Bach Dang, Tran Hung Dao. The other roads are located in the center. You can book rooms in Tran Phu, Phan Chu Trinh, Nguyen Chi Thanh, Yen Bai, Dong Da, Hung Vuong, Le Duan …
Here are some recommendations for your staying in Da Nang
Memory Hostel: This is one of the most unique nostalgic guesthouses in Danang, overlooking the Han River and the Dragon Bridge. Double room rate is 400.000VND / day. Triple room is about 500.000VND/ room for 4 people. Address: 03 Tran Quoc Toan street, Phuoc Ninh, Da Nang city. Tel: 0511 3747 797
Vien Dong Hotel: This is the first hotel chain in Da Nang. It has ideal location in the heart of the city (next to the night market), about 500m from the Han River, and 1.5km from the Han market and Con market. In addition, the hotel also offers business center, elevator, secure parking, free of charge. Room price: from 250.000VND / room for 2 people. From 400.000VND / double room of 4 people – quite reasonable.
Gia Khanh hotel: at 245 Ho Nghinh Street, near Han River. Clean rooms, enthusiastic service with the price from 180,000 to 300,000 VND / room.
Atlantic Hotel: at 151 Ho Nghinh Street is about 50 meters from Da Nang Beach. Rooms of the hotel are very clean, airy, sea view. Room rates range from 300,000 to 350,000 VND / room.
Sea Phoenix Hotel Da Nang: Located in 115 Xuan Huong Lake, close to Bac My An beach. With prices ranging from $26 to $50, the hotel has beautifully furnished, modern with many services: outdoor swimming pool, sunbathing, car rental, café. Along with the Song Cong hotel, this is the second most popular hotel in Da Nang in the segment.
Accommodation in Hoi An
An Hoi Hotel- 2-star hotel with low price
Being a 2-star hotel with a total of 29 beautiful rooms, An Hoi hotel is equipped with full amenities: two-way conditioning, private bathroom, TV, hair dryer, free wifi, fridge,…Besides, An Hoi Hotel is the first choice for the people who seeking for Hoi An hotels with pool. It also serves many convenient services: outdoor pool, bicycle rental, organized tours to visit Hoi An one day with enthusiastic tour guide, breakfast, 24-hour receptionis,..Only with these conditions, An Hoi Hotel has well deserved as the most beautiful and cheapest hotel for most of tourists.
Sun River Hotel Hoi An
Sun River Hotel Hoi An is located on the waterfront of Hoi An. From the hotel, you can collect the whole beauty of Hoi An River, Old Town and exciting activities, the busiest of Hoi An and the sights . You can rent a bicycle to visit the hotel's tourist attractions. Along the way you can shop and enjoy the rich culinary diversity of Hoi An.
Hoi An River Sun Hotel has 30 rooms which are all 3 star standard. They have modern furniture, full equipment, more liquor cabinet for vip room, free snacks … The most attractive things in Hoi An River Sun Hotel services are an outdoor pool, pool side bar, restaurant, cafe, garden, spa and massage…
Anh Duong hotel
We can say that Anh Duong Hotel is one of the most beautiful and cheapest hotel in Hoi An. Not only the prime location, beautiful views, 36 spacious rooms, Anh Duong hotel also has good balconies and full amenities and services you need. Especially, Anh Duong Hotel also makes tourists happy with a spacious outdoor pool. They also have excellent spa services; romantic cafes. The restaurant can accommodate 60 people which serve all dishes and specialties from Europe. Service attitude and the quality of staff is also an outstanding points of this hotel.  They are very friendly, enthusiastic, dedicated and proficient in English.
An Bang Seaside Village:
Located on an extremely favorable location, facing the sea, the entrance is the starting gate of the residential area, An Bang Seaside Village is a lovely homestay with fresh colors, fresh and full of equipments.
Red Flower Cottage Homestay:
Red Flower Cottage impresses with visitors by the green garden where the owner is smartly set up tables and chairs to rest. You will still feel cool, soothing under the greenery of the homestay's small garden. Rooms are well-equipped to help you relax after a bath or enjoy a walk on the white sand.
The Palm Garden Beach Resort Hoi An: Lac Long Quan, Cua Dai Beach
KimAn Hoi An Hotel & Spa: 461-463 Hai Ba Trung ward, Hoi An
Victoria Resort Hoi An Beach Resort & Spa: Cua Dai Beach, Hoi An Ancient Town
Moon's Homestay: 82 Ngo Quyen Street, Hoi An
DAY 1 AND 2: DA NANG CITY
Vehicles for travel around Da Nang City
Motorbike: It is very convenient and easy to explore the attractions of Danang tourism. Bike can be rented at the hotel, prices from 90,000 VND to 150.000VND / day. Some places of motorbike rental in Danang: Lam Nguyen Motorcycle Rental Company  ,Binh Minh Motorcycle, Truong Dat Motorcycle Company, Anh Tuan Motorbike Company.
Taxi: Some taxi companies are popular in Da Nang: Mai Linh Taxi – (0511). 3.56.56.56, Han River Taxi – (0511) .3.72.72.72, Vinasun – (0511) .3.68.68.68.
Schedule
The first things to do in Da Nang is that you can sunbath in the early morning. Danang beach has long and beautiful with smooth white sand. The most famous one is My Khe beach. This beach is famous for its white sand, calm sea waves, warm water all year round, surrounded by coconut trees. In particular, My Khe has been voted by Forbes as one of the six most attractive beaches in the world. Then, you can visit the Marble Mountains in Da Nang. There are five Marble Mountains, named after the five elements and they all which have cave entrances and numerous tunnels. The mountains are home to several Buddhist grottos. Driving 9km south of Danang city center on the famous beachfront boulevard Truong Sa, you can find these moutains. Either book a tour or take a taxi, or even a motorbike-taxi, you can reach your place in 10 or 15 minutes.
Or if you find it too difficult to make a decision things to do in Da Nang, you just make a phone call for tour company. We suggest you some wonderful tour in Da Nang now: Ba Na hill and Da Nang city, Explore Da Nang city tour- private one day tour 
In the afternoon
Next in list things to do in Da Nang is walk around Son Tra Peninsula, visit Linh Ung Pagoda in Bai But beautiful scenery from the temple. If you want, you can visit the beach bungalows in Rang beach, order some sea food, sunbath and relax. Son Tra has two directions: the direction of the beach, through the Linh Ung Pagoda, the other way to the top of the mountain for watching Da Nang night view.
What to eat in Da Nang in day 1? We highly recommend you try some Quang noodles. There are many vendors, such as: Quang flavor 166 Le Dinh Duong,  Khuyen Quang Cu Lu 27 Huynh Thuc Khang, Nang Ha Quang 1A, Quang Ngan 2/9 Street or 108 Dong Da. Then, you can try Mrs Huong porridge at 5 Hoang Dieu, Mrs. Loc porridge 4A Tran Binh Trong. The coastal restaurants such as Little Monk, Hung Fat … in Truong Sa, Hoang Sa street, Thanh Van restaurant or Oriental restaurant are not the bad choice for your taste.
Seeing some bridges at night is the most important things to do in Da Nang. The  most famous one is Han River Bridge. It was built on the main axis of Bach Dang street, connecting Hai Chau district with Son Tra district. It is the pride of Danang people. Another one is Dragon Bridge. It is a new bridge which connects the road from Danang airport to the beaches of My Khe and Non Nuoc. "Dragon" on the bridge has the ability to spray fire and spray water at 9pm on Saturdays, Sundays and holidays.
Day 2: 
Things to do  in Da Nang for the 2nd day? Don't worry. We have a thousand of places to recommend for you guys. You can enjoy the panoramic view of Ba Na Hills. Ba Na is located 30 km from the city center, can be reached by motorbike, taxi or buy tour to go. Ba Na has cool atmosphere, amusement park has many adventurous games.
Then you can go to Bach Ma National Park. This national park of Vietnam was built in 1991 and covers the area of 22 hectares around Bach Ma Mountain. This mountain is about 1450 meters in height, and is amazingly covered by white clouds all year round. At the peak of this mountain, tourists could enjoy a wonderful panoramic view of continuous ranges along with the coast or a lot of species of plant.
Next destination in your things to do in Da Nang list is My Son Tower– the largest Cham tower in Vietnam. It locates about 70 km from Da Nang for those who love architecture of Champa. In the center of Da Nang, you can visit Cham Museum near Dragon Bridge.
If you feel tired, we can offer you some places to relax in Da Nang. Thé Spa Riverside – 1st floor, No. 58 Bach Dang is the only spa on the Han River with a beautiful location and is located in the ancient French courtyard elegance. This is a place to relax after an enjoyable day playing around.
What things to do in Da Nang next? The answer is eating pork rolls. This dish is the culinary name of Da Nang, the dish consists of boiled pork which are thinly sliced and rolled with leaf roll along with raw vegetables, herbs. You can dip it into sauce. Address: Mau, 35 Do Thuc Thinh street. Calve in Mong Bridge is also a special dish for your day. This dish is everywhere, but the best is still near Mong Bridge.
DAY 3 AND 4: HOI AN CITY
You can have almost enough informations about things to do in Da Nang in above list. Then, we will suggest you more tips and more information for your trip in Hoi An.
Transportation from Da Nang to Hoi An
From Danang to Hoi An, there are two ways:
+ You can go to the highway 1A about 27km to Vinh Dien street and turn left 10km to Hoi An.
+ The second route is closer. You can start from Da Nang Center to Han River bridge, to Da Nang – Hoi An road and go straight to Hoi An about 30km.
Vehicles for travel around Hoi An City
Hoi An is full of traffic services such as bus, taxi, pedicab,..And the motorcycle rents are from 120,000 – 150,000 VND / day. But the most interesting thing to see in Hoi An is still walking or renting bicycles and go around to feel the special of this place. The rent for a bike is around 30.000VND / day.
Some mobile phone numbers you must know for help:
City Police: 0510 3861204
Post Office: 0510 3861635
Hospital: 0510 3864750
Taxi: 0510 3919919
Travel consultant: 0510 3910919
Hoi An ancient town
It would be great if in the morning, the only thing to do is just walk out to the street at about 5-6am and enjoy the fresh air. After that, you should have a very nice breakfast to start a new day. Phuong's bread at 2B Phan Chu Trinh or Madame Khanh's bread at 135 Tran Cao Van are 2 good choices. They have bread with meat, pork, pancakes, raw vegetables and fragrant sauce. These two bakeries are extremely delicious and famous – not only in Hoi An but throughout the world. The average price is 20,000 VND / 1 unit.
Then, continue to wander around and see some famous points, such as: Japanese Bridge Pagoda – symbol of Hoi An, Sa Huynh Culture Museum, hundred-year old house, Phuoc Kien House & Handicraft workshop – enjoy traditional music Vietnam, free shopping at the old town.
Refresh the energy to continue for the afternoon with chicken rice. Ba Muoi is also one of the famous dishes in Hoi An. You can find it at 22 Phan Chau Trinh.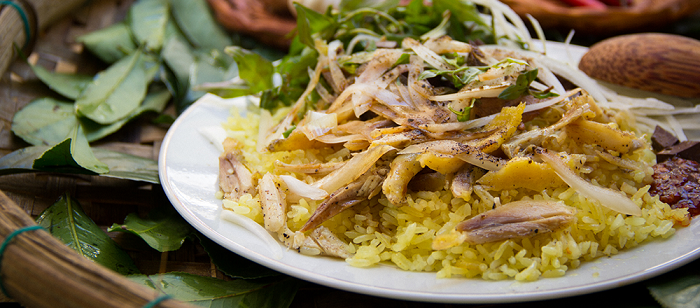 Then, you should plan to go to the ancient house of Co Tan Ky. It was built nearly 200 years ago, Tan Ky House has the typical architecture of Hoi An town with furniture divided into many rooms, each with its own function. The front of the house is the place to open the shop, the back side of the river to serve as a place to import goods. The house is built by traditional materials and is made by local carpenters, local mason should have a unique appearance, agility, elegance and show the interaction with the style of ant in the area.
If you love handicraft, Hoi An is the best place for you. The workshop brings together most traditional handicrafts of Hoi An and Quang Nam, such as weaving mats, weaving fabrics, pottery, lacquerware … Visit the workshop, visitors will find a peaceful landscape of a village image. Vietnamese countryside; Visually witness the skillful hands and excellent skills of artisans, creating fine art and fine craftsmanship. Tourists can take part in the production process of the craft if you book this tour: HOI AN HANDICRAFT VILLAGES PRIVATE TOUR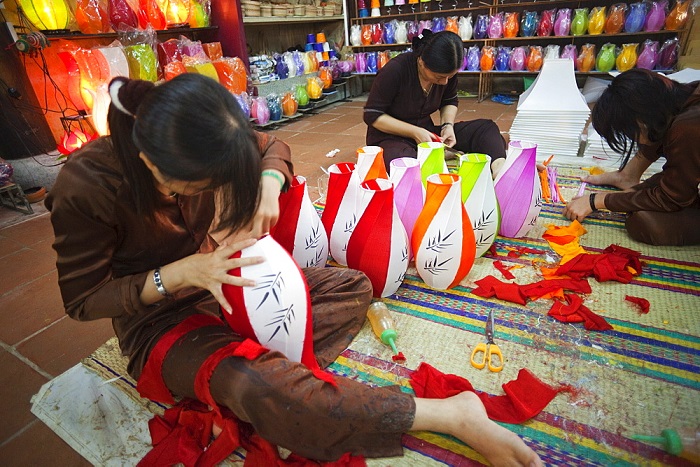 For the last day in Hoi An
In the morning, you can explore Cua Dai beach. This is a beautiful beach, with fine white sand, clear blue water, small waves and fresh seafood at low prices. If you don't like Cua Dai beach's beauty, An Bang beach is another choice for you. In An Bang sea, you will feel the wonderful freshness while walking along the sandbank, picking up the sun, watching the beautiful sunrise at dawn on the sea.
If you still wonder what to eat in Hoi An, Smashing rice paper (Banh dap) is the best choice.  Banh Dap (also known as Banh Chap) is kind of rustic cake in Quang Nam. It is the harmonious combination between the two kinds of baked roll and wet roll with some other ingredients to create new taste. Banh Dap is combined with two pieces of crispy rice paper and wet rice paper smashed on the table.
You can head to My Son from your hotel. The visit may take around 1-2 hours maximum to take it all in. You will have the opportunity to explore My Son, visit the ancient holy land of the Kingdom of Champa with mysterious temple from the 17th century. . Moreover, you can enjoy the special program of Cham dance, visit the Holy Center of Tra Kieu – located on the ancient foundation of the Cham (the Lion City).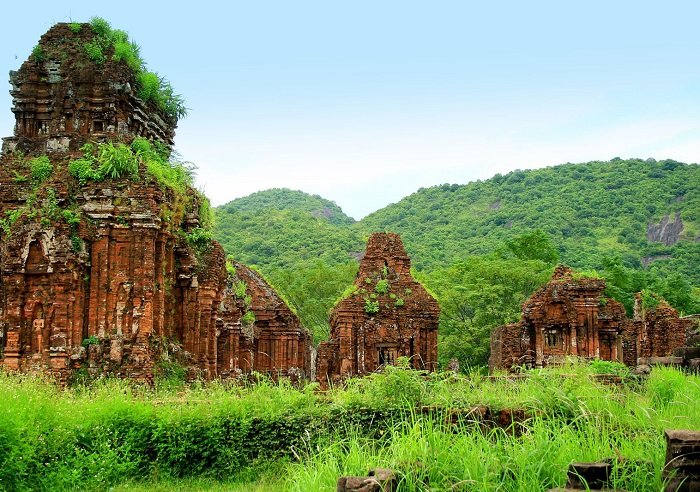 Then, you have 2 choices to go to Hoi An: by bus or boat. If you go to Hoi An by boat, they will take you along the Thu Bon River to Hoi An. You will have lunch on boat (snack) on the way visit Thanh Ha pottery village and Kim Bong Carpentry.
If you don't like both these activities, you just stay in Hoi An Old Town and make a suit by hot sewing: Garment industry is highly developed in Hoi An, including services "hot sewing" which rapidly response the needs of tourists. Hoi An's shopping scene is legendary for its plethora of affordable yet quality tailoring services, where you can easily get your hands on custom-made dresses, suits, shirts, and shoes at a fraction of the price you'd pay for them back home.
Transfer to Hoi An Ancient Town, you can take a rest and visit the Old Town at night
And now you know clearly about things to do in danang and hoi an, right? Don't hesitate, just go straight and enjoy your holiday!
0