With green beaches, vast forests, unique "bridges", exciting entertainment areas … Da Nang is like a "paradise" – where you can meet all entertainment for anyone, even the most demanding guests. As a result, Da Nang tourist sites are increasingly attracting both domestic and foreign visitors. Coming to Danang, you will surely have a new experience of the richness and diversity of the type of tourism here. Before embarking on the journey to explore Da Nang tourist attractions, Seatrek will help you list down all places to visit in Da Nang which can save more time for your trip!
1. Ba Na Hills
Located among forested hills, about 30km west of the center of Da Nang, Ba Na Hills is the stunning mountain resort that features with varied flora and fauna, including many rare animals, such as Crested Argus, and Asian Black Bear. There are more than 540 species of plant in this area. Referring to Ba Na Hills, you must know the cable car which has many records in the world. Old cellar of Debay: is a unique French-built building from ancient times, is an ancient cellar with a length of 100m and always keep the ideal temperature from about 20 degrees. You must siscover new feelings in a French wine cellar when you travel to Ba Na Hills. Le Jardin: there are 9 gardens in different styles. The variety of colors is a destination you should check in and take some beautiful photos.
Seatrek also suggests you a BaNa Hill tour for 1 day. You can have a chance to discover the beauty of the lush Vietnamese countryside. Besides, you can hop on an unforgettable cable car ride up to the scenic and fun-filled Ba Na Hills mountain resort.
2. Cham island
You can come to Cham Island for diving to see the coral and enjoying seafood. Eco tour Hoi An also supplies for tourists some great experience to discover Cham Island. Referring to Cham island, surely you will think of diving to see the coral and enjoying seafood.  If you can walk and breath, you can SeaTrek.
During the tour, fish of all shape and colours, local marine life will surround you. You will have a delicious lunch and relax at the Unique ecological Bai Chong beach of a Word Biosphere Reserved Cham islands recognized by UNESCO. Then, have a chance to experience the adventure on our VietNamese wooden boat. Moreover, it's the best tour for snorkeling, swimming, relaxing.
See more:https://seatrekvietnam.com/tours/walking-underwater-tour/
3. Marble Mountains
Located about 7 km south-east of the city, Ngu Hanh Son Mountain includes 5 mountains: Kim – Moc – Thuy – Hoa – Tho. Not only beautiful mountain scenery but also many traditional meanings associated with religious events and festivals. If you come here on February 2 lunar month, you will have the opportunity to attend Quan Yin Festival.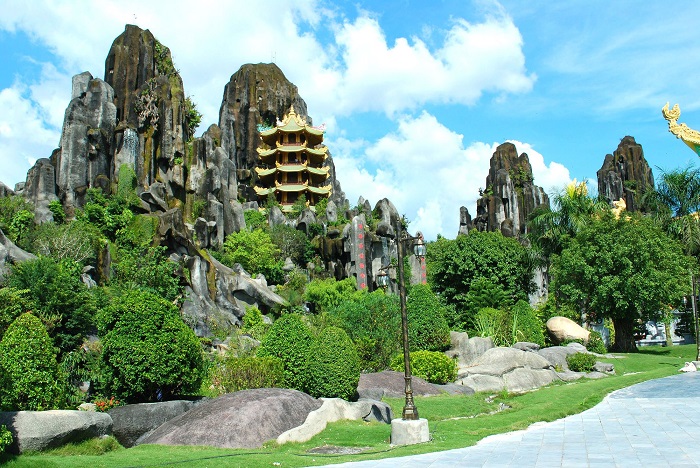 4. Son Tra Peninsula
Located about 10km from the city center, Son Tra Peninsula is considered as the "green lung" of Danang. Not only diverse ecosystems, this place also attracts tourists by nature and wild romantic scenery. Son Tra is the convergence of many leading destinations in Da Nang, such as Linh Ung Bai But Pagoda- the largest and most beautiful pagoda in the city.
If you ever have a chance to visit Son Tra Peninsula, do not forget to stay at one of the villages built on the mountains; those comfortablevillages not only overlook the beautiful beaches and jungles, but also provide you a fresh and invigorating atmosphere. Besides, you can always enjoy fishing and get to know the lives of the inhabitants whenever you want. Da Nang means Son Tra peninsula, so come and get the real feeling of a different Vietnam.
If you find it too difficult to make a decision about going to what Da Nang tourist attractions, you just make a phone call for tour company. We suggest you some wonderful tour in Da Nang now: Explore Da Nang city tour- private one day tour 
5. Linh Ung Pagoda
This is the biggest temple in Da Nang, with its back resting on the vast primary forest of Son Tra Peninsula and facing the sea. The most famous pagoda in the temple is the statue of Buddha Avalokitesvara, 67 meters high and 35 meters high – is equivalent to a 30 storey building. Local residents on Son Tra peninsula recalled stories relating to the existence of the pagoda. Accordingly, under the reign of King Minh Mang in the Nguyen Dynasty in the 19th century, a Buddhist statue drifted downstream to the area and ran aground at a sandy embankment. Local villagers thought it was a good omen, so they built a small pagoda to worship the statue. From that day on, the whole coastal region enjoyed good weather, with no big storms and rough seas, while local fishermen caught plenty of fish. The embankment where the statue drifted was then named Bai But, meaning "Buddha's sanctuary in the real life", where the present-day Linh Ung Pagoda is located.
6. Son Tra Tinh Vien
This unique bamboos preserve is suitable for those who want to find a quiet place to rest. It is "Bamboo Sanctuary Vietnam" or "Son Tra Tinh Vien" as the name, is a quiet bamboo garden, cool green four seasons, birds chirping, whine tinkering throughout all summer. This is known as the place of paradise, located in a valley of Son Tra Peninsula Nature Reserve, sub-area 64 belonging to Tho Quang ward, Son Tra district (Da Nang city). The owner who has full of enthusiasm is Master Dai Duc Thich The Tuong. According to Mr Tuong, there are 250 to 300 different bamboo species in the country. In Son Tra Tinh Vien, there are 108 species with 80 species that have been identified by the Forest Science Institute of Vietnam.
7. Ban Co Perk
This is a place associated with many interesting myths that you should note in your Da Nang tourist attractions list. Coming to the peak of Ban Co, you will have a chance to see the beautiful city of Da Nang.
The snaking path to Ban Co certainly brings much excitement for riders with one side being the sea and the other being the forest. On the top, around 700 meters above sea level, tourists can see a fairy statue playing chess. There, it is great to take a look at sunrise or sunset. In the distance is Danang City with many buildings and a number of bridges spanning the Han River.
8. Bang rapids
With the random arrangement of numerous large and small rocks with different shapes, Bang Beach has become a unique and attractive beach with many visitors. Bang rapids is a tourist destination which is not as popular as beaches, hotels and other ecotourism sites in Da Nang ,but that does not make people known less than about this tourist site.
Recently, the name Bang rapids has been gradually known and discovered by tourists from near and far areas. Bang rapids will bring fun and satisfaction to you. Rocks is along the beach about 2 km long with many boulders of all shapes and sizes, you can occasionally see the smooth sands. Staying behind large rugged rocks is a long beach with blue sea, white sand, sun light and coconut lines reclining shadow on the sand. Bang rapids is wild and rustic with the business of the household.
9. Nhất Lâm Thủy Trang Trà
This is an ecotourism area, where Da Nang tourist site brings in the wild beauty of the mountain with a small lake in the shadow of old trees. Located in the Son Tra Peninsula (Da Nang), Nhat Lam Thuy Trang is not a resort, nor is it an ecotourism resort. This is the reason why this area is less known on the tourist map. Nearly only local people around Da Nang city know or the tourists or visitors to the site looking for "strange" , the new horizons to explore. Crossing the forest about 1km, you will come to Nai stream and old tree. It is a thousand-year-old giant tree which roots make you overwhelmed when they are erected like a wall, at times like a giant python lying peacefully on the ground.
10. Bach Ma National Park 
This national park of Vietnam was built in 1991 and covers the area of 22 hectares around Bach Ma Mountain. This mountain is about 1450 meters in height, and is amazingly covered by white clouds all year round. At the peak of this mountain, tourists could enjoy a wonderful panoramic view of continuous ranges along with the coast or a lot of species of plant.
11. Visit Museum Of Cham Sculpture
The next in list of Da Nang things to do and see is Cham Museum. It was built in 1915 according to the idea of Henri Parmentier – a French archaeologist with a project of the Institute of East. This work was completed in 1919, located on a mound near the romantic Han River. This is the place to preserve, display the most rare collections of sculpture art of Champa.
Beautiful beaches in Da Nang       
Da Nang is a city "Mother Nature" in favor of beautiful beaches with beautiful scenery, blue sea and white sand stretches seem endless.
12. My Khe Beach
Danang beach has long and beautiful with smooth white sand. The most famous one is My Khe beach. This beach is famous for its white sand, calm sea waves, warm water all year round, surrounded by coconut trees. In particular, My Khe has been voted by Forbes as one of the six most attractive beaches in the world. The lack of large waves, warm water year round and an average of 60 meter wide beach area, My Khe Beach is an ideal and safe place for both adults and children to swim at any time of year. My Khe also offers magnificent sunrise scenery so try to stay close to the beach to enjoy the stunning view right from your room.
13. Pham Van Dong Beach
With an area of ​​7.726m², with side-effects such as fountains, 6 freshwater pools and 26 shower lines, this beach promises to give you the perfect relaxation. Considered as one of the must-see Da Nang tourist attractions, Pham Van Dong Beach was got pretty big investment and became the most modern public Da Nang beaches. As a precious gift of nature with blue sea, smooth white sand shores together with a thorough investment including auxiliary works such as parking lots, fresh water shower area, dressing rooms, accompanying services and permanent rescue belvederes…,
14. Non Nuoc beach
Non Nuoc beach is popular with many tourists because of fine white sand with sloping sand, clear blue water with calm waves and casuarinas are very suitable for picnic and camping. The shape is almost like a round bowl for the foot of Ngu Hanh Son, Non Nuoc beach is also famous for its beauty and cleanliness. The sandy beach stretches up to 5 km, gentle slope, clear water, windswept, sunny with warm climate in winter and summer back very cool. The environment is so peaceful that it is ideal for tourists to relax freely in the crystal clear water or take part in year-round recreational activities such as fishing, windsurfing and beach volleyball. And enjoy many fresh seafood specialties such as squid, shrimp, crab, snail … Sitting on the big stone tissue, around completely quiet listening to the silver waves smirking and feel like they are dissolved with nature.
15. Van village beach, Nam O beach
If you are a "real traveler", you should try to refer to lesser known beaches such as Chuoi beach, Van village sea, Nam O beach (Nam O reef) or But beach! These beaches are beautiful and romantic. Not only that, you can also go camping with friends, play outdoor games and enjoy fresh seafood caught by the fishermen.
16.Well
It is located in the Ba Na – Nui Chua Nature Reserve where has the famous Ba Na Hills resort. Wildlife is the source of inspiration for people with the type of trekking, camping or bathing.
The city of the bridges
Referring to Da Nang, people often think of the unique and strange bridge of the "tourist city". Each bridge has its own characteristic, marking the hearts of visitors who once set foot in this land.
17. Han River Turning Bridge
Being one of Da Nang tourist destinations can not be ignored, the bridge has a very special structure. Han River Bridge was built on the main axis of Bach Dang street, connecting Hai Chau district with Son Tra district. It is the pride of Danang people. The beautiful bridge shimmers and highlights the city when the night falls. In particular, every night, the Han River Bridge rotates 90 degrees around the center of the bridge for large ships to pass through. This special event is opened from 1:00 to 2:00 (Monday – Friday) and from 23:00 to 24:00 (Saturday and Sunday). Do not miss the opportunity to wait and excited fun to witness the moment "unique".
18. Dragon Bridge
It is a new bridge which connects the road from Danang airport to the beaches of My Khe and Non Nuoc. The design of the bridge is identical to its name: Dragon Bridge, with the head depicting the Ly dynasty and stylized tail under the lotus symbol. At 21:00 on Saturday and Sunday, Dragon Bridge will spray water (3 waves) and spray fire (18 waves). If you want to see this strange event, you should come early to find an ideal location offline! The amount of visitors here can make you surprised and overwhelmed.
19. Thuan Phuoc Bridge
With the idea of ​​light bird wings reaching out to the sea, bridges are designed with LED lighting and modern technology to create sparkling, magnificent night. Thuan Phuoc is the longest hammock in Vietnam. From all points of view, Thuan Phuoc Bridge reflects a modern outlook, full of charm and splendor. The bridge is located in a special position, where the river flows to the sea at the Southern Danang bay, linking the coastal road Nguyen Tat Thanh and Vo Nguyen Giap, the system creates a continuous route traffic from the tunnel coastal from Hai Van to Son Tra peninsula, the bridge Man Quang and connecting the route Son Tra – Hoi An.
20. Love Bridge
Get ideas from famous love bridges in the world like Milvio in Italy or Hohenzollem in Germany, love bridge is though a new place but attracted many visitors to visit. Like its name, there are many heart-shaped lanterns and a pier where you can hook into your love locks.
21. Nguyen Van Troi Bridge
This is the longest bridge on the Han River. Recently, the bridge has been repaired and "put on" a completely new look. Nguyen Van Troi Bridge was constructed in 1965, connecting the east and west of Da Nang. It is also the first pedestrian bridge in Da Nang spanning Han River.
22. Asia Park
The next evening entertainment venue in Da Nang is Asian Park . The park operates from 3.30pm to 11.30pm with entrance fees of 200.000VND for adults and 150.000VND for children (children with height no less than 1m). At the Asian Park, you will be able to take a day trip to the sun setting for a panoramic view of the city. With over 20 exciting games both indoor and outdoor, from fun to thrill for children, adults, Asia Park becomes the most famous tourist attraction in Da Nang. If you get hungry, you can go to the dining area with Japanese and European restaurants in the park.
23. Sun Wheel
Located in Asia Park, the Sun Wheel revolves around modern design and is quite similar to the revolutions in Thailand and Singapore. This place has become a hot spot for not only the locals but also the tourists.
24. Helio Center
Developed as a model of indoor entertainment, Helio is a multi-service entertainment complex which is quite famous in Da Nang. You can also note down this place in your Da Nang tourist attractions list.
25. Hoa Phu Thanh
Located on 14G Highway, Hoa Phu Commune, Hoa Vang District, Da Nang City, Hoa Phu Thanh is a place that can bring you many exciting and adventurous exploration with waterfall jump by rubber boat.
26. Phuoc Nhon
This is an attractive tourist attraction in Da Nang, where you can enjoy mud baths and hot springs. Phuoc Nhon Hot Spring is home to the peaceful and charming natural scenery along with perfect tourist services. It gradually becomes one of the most beautiful tourist areas in Da Nang attracting a large number of domestic and international tourists.
Phuoc Nhon Hot Spring also houses the large restaurant designed in accordance with the space and scenery surrounding. It is the rendezvous tourists have an opportunity to enjoy special specialties such as Dong Nghe chicken, Phuoc Nhon spring rolls with fruits, Phuoc Nhon snakehead, Dong Nghe grilled frog or Dong Nghe grilled beef…
27. Traditional villages
The village is a traditional beauty still preserved and developed in Da Nang today. Coming to these locations, you will have the opportunity to enjoy yourself in the idyllic life of the people and have a great experience with the artisans here.
28. Non Nuoc stone carving village
Established in the 18th century, the village has been producing a great variety of marble products with elaborate and elaborate carvings.
29. Tuy Loan rice paper village
The ancient village is located in Hoa Phong commune, Hoa Vang district, about 15km from Da Nang center. Tan Loan village is over 500 years old. Go to the ancient village of Tuy Loan, you should taste specialty rice paper and Quang noodle.
30. Cam Nua Cinematic Village
The village is well known for its traditional floral motifs, which are skillfully crafted, meticulously and highly durable.
31. Nam O fish sauce village
The taste of fish sauce is delicious and attractive in this tourist destination Da Nang has many visitors to the new land both inside and outside the country. You can see the following clip to learn more about this famous fish sauce village. It is also the most famous fish sauce in Da Nang. Unlike all other types of fish sauce, Nam O fish sauce is made from charcoal. You can go to Nam O village to visit fish sauce processing and buy a few liters as gifts.
32. Hai Van pass
Situated on the border between Thua Thien – Hue province and Da Nang, the winding road has some challenges for every driver. From the top of the pass, you can admire immense nature, majestic and panoramic Da Nang city below.
33. Thuan Phuoc Field
For those who love photography, Thuan Phuoc Field is a Danang tourist destination that you can not miss. Inspired by farms and farms in Europe, Thuan Phuoc Field was designed as a very romantic and beautiful studio.
34. Children's Palace
Located on September 2, Hai Chau district, Da Nang, this unique design has an area of ​​34,000m². If you love new things, you definitely can not ignore this Da Nang tourist attractions.
35. Pham Van Dong Sea Park
The East Sea Park attracts visitors for its beauty. You should be there at 7.30-8pm to take a photo with pigeons.
36. Sky 36 – Sky Bar highest in Vietnam
This choice is for those who enjoy music, dance and also a panoramic view of Da Nang city. This is a famous nightlife spot in Da Nang, located on the 36th floor of the Novotel Hotel on Han River, Bach Dang Road, Hai Chau District. Opening time to welcome guests from 6pm to 2am. With a team of dynamic, enthusiastic staff, skilled DJs and beverages, the Sky 36 will ensure that you will have fun all the way until you leave.
See more:  10 Activities Every Adrenaline Junkie Needs to Try
37. Walk along the beach
If you do not know where to go to Da Nang at night, you can take a stroll around the beach to enjoy the cool breeze from the sea blowing or watching the hip hop dance performances of young people on the coastal road. Every evening, the roads along the coast of My Khe or North America An have many brilliant lights to let people walk or exercise. There are many performances of music, art for both local people and tourists.
38. Check in and take a photo at the Marina
This is a new tourist attraction which attracts many young people. It iss next to the Dragon bridge. Coming in the sunset is a good idea to match the moment of the most beautiful and romantic scenery.
39. Eat the street food and enjoy nightlife
You know, Da Nang is the culinary paradise of the central region and evening is no exception. Come here, you will have a thousand of dishes to eat. Especially, there are delicious snacks such as: girdle cakes, baked rolls, rolls, grilled seafood,… You will enjoy a good taste in luxury restaurants or on the sidewalk. There are many options for street food such as pork rolls, rice cakes, rice porridge, fish noodles, bread, tea types, snails, jackfruit mix.
40. Con market
This is the largest shopping mall in Da Nang and the central region. The number of tourists coming to the market is not only for shopping but also an attractive tourist attraction of Danang.
It is very difficult for you to visit all Da Nang tourist attractions. So you should choose the most suitable places for your schedule! If you need more experience on travel tips, hotel booking information or wonderful tours in Danang, you can visit our website. Wish you have a fun and exciting trip!
0